We offer an extensive line of facials to suit your skin type, age and special needs. We offer package treatments as well, so you can obtain and maintain a beautiful, healthy look. Our European style facials include warm scented towels massage of sculp, neck, arms and shoulders in a tranquil envoirment while enjoying the many benefits of the BioMat .
Massage and Facial packages available
Custom facial 60 min $65
Chromalift facial 75 min $85
Radiancy tightening facial 75min $85
Microderm facial 75min $95
A peek at some of our facials
Now you don't have to spend a fortune or travel to New York City or some exclusive resort for this Red Carpet Treatment!
Click here and see if your favorite celebrity is raving about this amazing facial. This is the facial treatment I reccomend for any special event. You'll see and feel a difference imediately and last for several days.
Awsome results by itself $95 OR take it to the next level for a GREAT treatment ...add a microderm or Radiacy $120
Radiancy Micro Phototherapy Facial

This by far is the most popular anti-aging treatment we offer! Why? Because it addresses so many things; the skin becomes visably firmer, smoother and luminous. When done in a series sun spots and wrinkels are greatly diminished and your skin has a more youthful glow.
The results are long lasting.
$85 with Microderm $115
We even recommend this as a wonderful way to rejuvenate your hands.
Sun-damage, alcohol, smoking, hormonal changes and heredity, along with the natural aging process, affects collagen production. A decrease in collagen leads to diminished skin support and the formation of wrinkles and fine lines. How do you address these issues WITHOUT hte trauma of plastic surgery or painful injuections? Natural Alternatives offers the latest in technologies and procedures designed to decrease discomfort and downtime.
Microdermabrasion
Microdermabrasion is a selective and controllable mechanical peel, which allows for more precise work. It is the third most requested non-invasive resurfacing process according to 2003 Survey of the American Society of Plastic Surgeons. Microdermabrasion is a great stand alone treatment to erase or minimize acne, acne scarring, fine lines photodamage or may be incorporated with other facial treatments. Best when done in a series.
Micro Express $65
Micro Facial $95
Glykopeel -
Filorga Glykopeel 20, with sequential variation of pH, is a complete dermo-cosmetic peeling which acts specifically on skin aging and imperfections, leaving you without social restrictions. It can be applied at any time of the year, on all skin types, even the most sensitive.
It revives the radiance of the skin, refines the skin's texture, smooths and reduces fine lines and wrinkles, improves the elasticity of fatigued and dehydrated skin, softens pigmentary moles and evens the skin tone. It regulates the surplus of sebum with its comedolitic action.
The results are immediate; disappearance of shadows and dark circles under the eyes and a muddy complexion, and the skin's texture becomes smoother, features become softer and the skin regains firmness and radiance.
Glykopeel is made up o 5 major active ingredients; a powerful exfoliant, glycolic acid; 2 depigments, kogic acid and bearberry; an anti-inflammatory and vascular protector from the white mulberry tree; as well as vitamins A (softener), C (moisturizing), and E (anti-radical). Glykopeel, therefore, has exfoliant, stimulant, depigmenting and regenerative effects.
Soft, European Style Facials - Cleansing & Healing
Relaxing & Refreshing
Express Facial - $55 Cleansing, exfoliation, hydration, and the application of a mask suited to your skin type.
The Princess (or Prince) - $45 One is never too young to learn good skin care. Same as above with young skin in mind!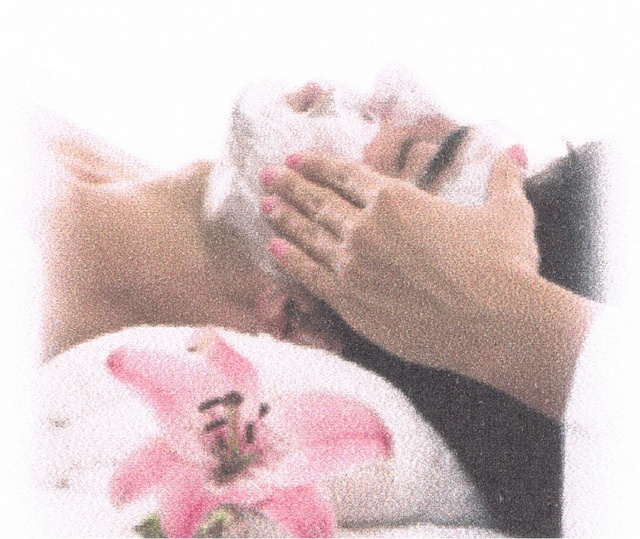 Deep Pore Cleansing Facial - $65 An extension of the Express. Fruit enzymes are added for natural exfoliation while aromatic steamed towels are used to ease the extraction of blackheads, whiteheads, and other impurities. A soothing antibacterial ampoule is included.
Acne & Rosacea Care
Mini Peels - $55 and up
Glycolic, salicylic or pumpkin peels are fast and effective treatments to reveal fresher smoother skin. Great for acne when done in a series.
Acne Facial Treatment - $65
This treatment may incorporate one or more of the following steps: disencrustation (to break down sebum deposits), enzymes or a pumpkin peel, extractions, light therapy, a treatment ampoule or a purifying mask.
R52 Rosacea Treatment - $65
Finally, a soothing facial for Rosacea. Drift into a dream filled with the scent of roses while your skin is being strengthened and soothed with nutrients from green tea, seaweed and French Belgium Rose essences.